CEREC in Hudson, MA
What is CEREC?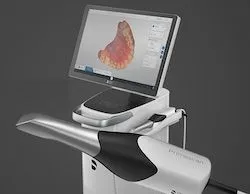 A smile is one of our greatest personal assets; it is a reflection of happiness and good health. Yet many people avoid smiling because they are concerned about the condition of their teeth. Proper dental care is critical to preserving and, when necessary, restoring your unique smile.
And now, thanks to recent innovations in dentistry, proper dental care does not have to take away from your regularly scheduled life. We are able to offer patients a kinder, gentler and faster way of restoring damaged or decayed teeth in usually a single appointment.
The dental profession is evolving, and so should your experience. New technology helps diagnose problems earlier, allowing our team of doctors to treat problems sooner and with less invasive techniques. Our practice offers the latest in comfortable, convenient dentistry with our CEREC® tooth restoration system. Using the CEREC® equipment, we can now complete a color-matched ceramic or composite tooth restoration – filling, inlay or onlay, crown or veneer – in usually a single appointment.
Our doctors then design the appropriate restoration using CAD software and mill a tooth-colored ceramic restoration on-site, while the patient waits, in less than 13 minutes. The milled restoration is extremely precise, very durable and made with bio-compatible tooth-colored material. There's no need for a temporary and return appointment.
While patients are most interested in the attractive quality of the final result and the time-saving approach, Our doctors laud the conservative treatment plans made possible by CEREC®. In addition, modern bonding techniques and precise conservative restoration design allow our doctors to preserve more of the healthy tooth structure, creating a stronger, more natural result.
CEREC® has two decades of clinical research and documentation to support the technology. The restorations have been proven precise, safe and effective, with more than 20 million performed worldwide.
CEREC® is a registered trademark of
Are you interested in CEREC? Contact the our office today!
Call 978-562-2782 to learn more or to book an appointment!