Invisalign in Hudson, MA
WHAT INVISALIGN CAN TREAT?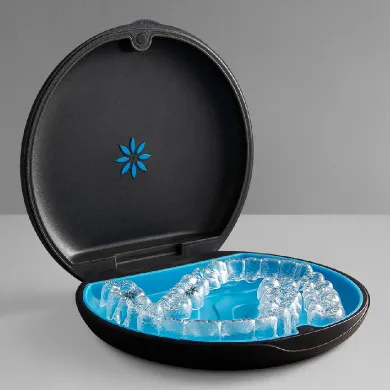 Invisalign's clear, custom-molded aligners (sometimes thought of as "clear braces") not only create a beautiful smile but also treat numerous functional issues, that if left unattended will cause bone loss, gum recession, tooth wear or fracture. Having your teeth upright and aligned is likely to prevent future dental work. One of our doctors, all certified Invisalign providers, will create your individual treatment plan using Invisalign's clear, custom-molded aligners to solve a range of issues, including: Overly crowded teeth, widely spaced teeth, Overbites, Underbites, and Crossbites.
HOW INVISALIGN WORKS
The Invisalign system has been successful in giving hundreds of thousands of amazing smiles to both teens and adults. The process is very straightforward: Aligners are worn for 22 hours a day and only removed to eat, brush or floss. Your teeth will move bit by bit and you'll be changing aligners every two weeks. You'll check in with the doctor for a progress report every 6 weeks. Length of treatment depends on the amount of movement needed; the average is 11 months, with a range of 5 months – 2 years possible.
ADVANTAGES OF INVISALIGN OVER TRADITIONAL BRACES
Oral health – not only are you avoiding metal, which can occasionally cut or damage the surrounding tissue, but removable aligners allow for better, more regular cleaning of the tooth's surface, which helps to prevent decay.
Aesthetic – no question braces have gotten better over the years, but it's still no contest with clear aligners that people can barely see!
Time – in the vast majority of cases, Invisalign will often much faster results than traditional braces, for roughly the same financial investment.
Feel – Invisalign aligners are more comfortable than traditional braces, and since they are removable there is more room for adjustment.
ARE YOU A CANDIDATE FOR INVISALIGN?
Wondering if Invisalign will be a good solution for you? Hudson Family Dental offers a free Invisalign consultation! Give us a call at (978) 562-2782 to schedule your consultation today.
Ready for a new smile with our Invisalign treatment?
Call our Hudson office today at 978-562-2782 for more information or to schedule an appointment!