Laser Dentistry in Hudson, MA
What is Laser Dentistry?
Pain-free dentistry--could this be the way of the future? No, pain-free dentistry exists now at Hudson Family Dental in Hudson, MA. Dr. Gigliotti and Dr. Gittleman and their competent, friendly staff strive for maximum patient comfort and oral health. As such, they have become experts in a branch of restorative dentistry called laser dentistry. Painless, fast and accomplished with no anesthesia, laser dentistry precisely treats hard and soft tissue dental issues.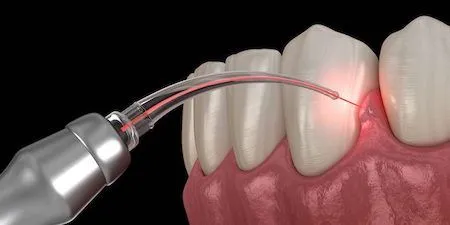 Laser dentistry helps treat:

uneven gum lines

infected gums (due to periodontitis or tooth abscess)

decayed enamel and dentin, the inner layer of a tooth's structure

small cosmetic issues such as pitted enamel

multiple problems, such as several small cavities, in one visit
Laser Dentistry has Several Advantages
Overall, the biggest advantage benefits the patient. Individuals who have been treated with a laser report that they are exceptionally comfortable and anxiety-free. According to the Dental Fear Research Center at the University of Washington at Seattle, dental phobia is one of the biggest reasons people avoid getting the routine care and restorative procedures they need. Laser dentistry helps these individuals feel little to no fear--often simply because they spend far less time in the dental chair.
In addition, when Dr. Gigliotti and Dr. Gittleman uses a Laser, there is no need for:
the dental drill, and its noise and vibration

anesthesia, injections and their side effects such as a numb face or "fat" lip

multiple visits to the dental office
Laser dentistry allows your Hudson, MA dentists better instrument control and outstanding versatility. In other words, Dr. Gigliotti and Dr. Gittleman can use the laser to treat a wide variety of oral health problems with no cutting, suturing or bleeding. Patients are able to resume their normal activities, such as school and work, right away with no restrictions on what they eat and drink.
Experience This Innovation Now
Why wait to get the most modern preventive, restorative and cosmetic dental services available?



Contact the team at Hudson Family Dental to learn our dental laser,
or to book your appointment. Call (978) 562-2782 today!